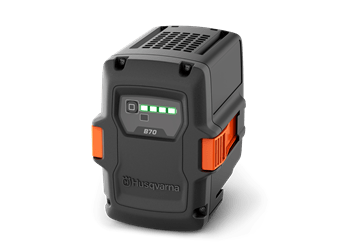 40-B70: Battery Series Accessories
Husqvarna 40-B70 is an integrated low weight, fast charging 2 Ah battery suitable for home use with the complete Husqvarna 100-series, offering good capacity and runtime at a very low weight. Because of the low weight the battery is best to use for applications such as hedge trimming or grass trimming. Features excellent active cooling in demanding applications and during fast charging, and intuitive 4-LED charge indicator. Rechargeable up to 600 times.
Avaliable sizes: N/A
Price: Call for detailS
To buy this product (40-B70) call us on 01389 761887. This item is only available to pick up from our Dumbarton and Helensburgh stores.
---
More Products From Mather Hire Avaliable to Buy in Our Two Shops